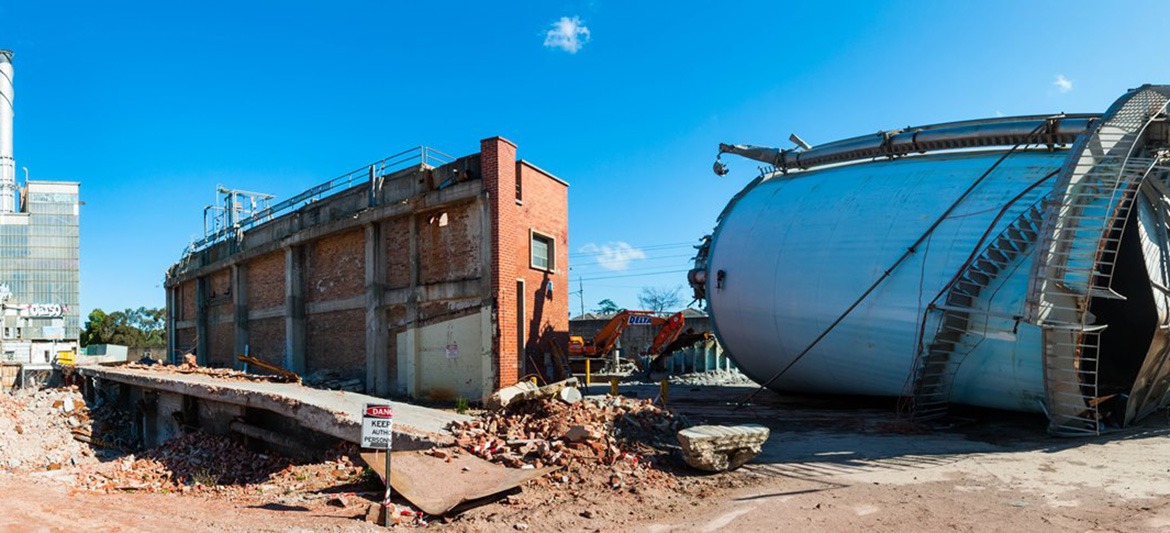 Amcor Paper Mill (YarraBend)
Project Description
Amcor Australasia contracted Delta Group to complete major industrial demolition works as well as environmental remediation and rehabilitation of asbestos contaminated land to make way for an entirely new suburb of Melbourne – the $2b Yarra Bend development that will involve more than 2,500 homes, 5,000 residents and leisure, retail and commercial amenities.

Demolition

Recycling

Environmental

Asbestos

Civil
Project
Industrial Plant Decommissioning
Client
Amcor Australasia
Sector
Industrial, Manufacturing
Location
Suburban Melbourne
Our scope of works included:
Demolition of existing structures, including an 83 metre concrete chimney stack, water treatment plant, multi-level processing plant, above/below ground tanks and silos, and deconstruction of the slab, basements and tunnels throughout the 16.5 hectare site.
Retention of (future) heritage listed structures, such as the 1954 Boiler House.
Recycling of uncontaminated construction materials, including timber, concrete and ferrous/non-ferrous metals – as well as onsite concrete and brick crushing facilities.
Removal of friable and non-friable asbestos, including remediation and rehabilitation of contaminated soil.
We mobilised a fleet of large excavators and associated plant to complete demolition works across the 40 acre site, including specialised long reach attachments, hydraulic shears and a hydraulic pulveriser attached to a crane to deconstruct the chimney stack.
A significant and heavily scrutinised challenge was to remediate and rehabilitate asbestos contaminated materials and soil, including:
40,000 cubic metres of non-friable (bonded) asbestos, predominantly from asbestos cement roof sheeting.
100 cubic metres of friable asbestos.
We worked with an independent hygienist who was commissioned to direct our remediation and rehabilitation work, as well as to ensure all appropriate OHS protocols were met – in accordance with the requirements of the City of Yarra (local council) and Victorian Environment Protection Authority.
As part of our recycling works programme, non-contaminated concrete and brick materials were crushed onsite.