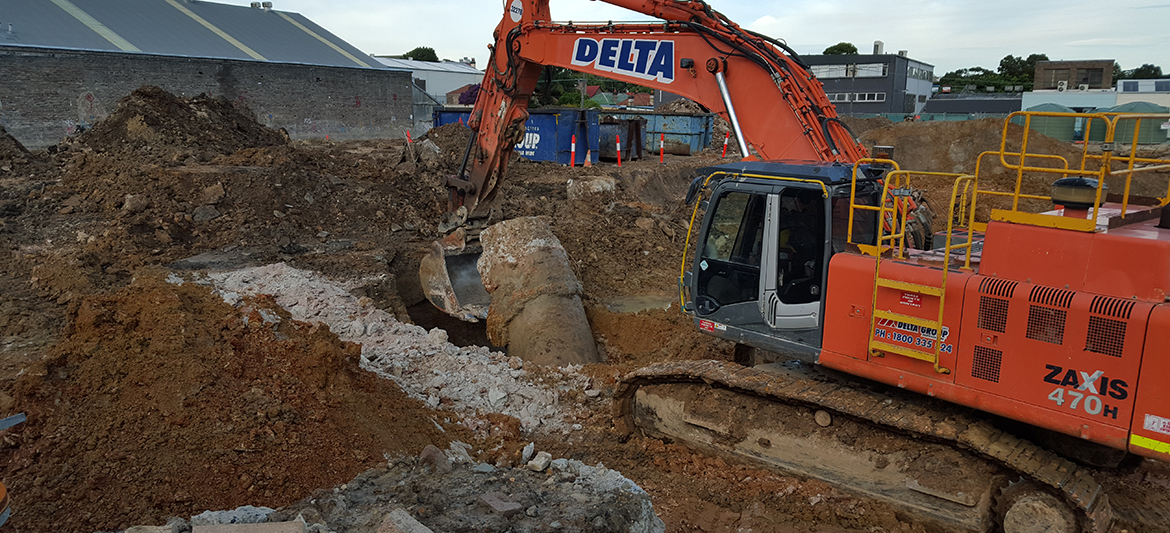 Leichhardt Green
Project Description
Delta Group was contracted by Greenland Australia to design and deliver a major works programme for the transformation of a commercial and industrial site in Sydney's Inner West.

Demolition

Recycling

Civil

Environmental
Project
Commercial & Industrial Remediation
Client
Greenland Australia
Sector
Urban, Residential
Location
Suburban Sydney
Our scope of works included:
Strict environmental controls, including emissions (dust), noise and vibration measures.
Design and construct piling and capping beam.
Operation of Hydraulic containment wells.
Relocation of major urban storm water drainage system.
Demolition of existing slabs and footings.
Removal of contaminated waste materials, including on site mitigation measures.
Transport logistics, including traffic management and supervision.
Community engagement and consultation.
Relocation of services.
The project was unique due to the measures undertaken to mitigate the overall impact of contamination and the removal of contaminated materials. All works were conducted in strict accordance with the appointed environmental consultant to satisfy auditing and regulatory requirements.
Carefully targeted excavation works were carried out to remove contaminated groundwater plumes, while the engagement and consultation measures we undertook with the local community led to a successful realignment of a large diameter stormwater drain within the road reserve despite disruption to residential amenity and services. All works were actively managed with input from NSW Water authorities, local councils and the EPA.
Other key achievements include:
Excavation and disposal of 27,000t of ACM impacted spoil.
High level dust management.
Excavation and disposal of 19,000t of general waste.
Excavation and removal of 13,500t of natural material.
Successfully limiting removal of upper level contaminated spoil to 1,000t.
Installation and management of contaminated groundwater capture system.
Design and construction of retention systems.
Construction of 120m of 2.1*1.8 box culvert and tap-ins to live stormwater main.