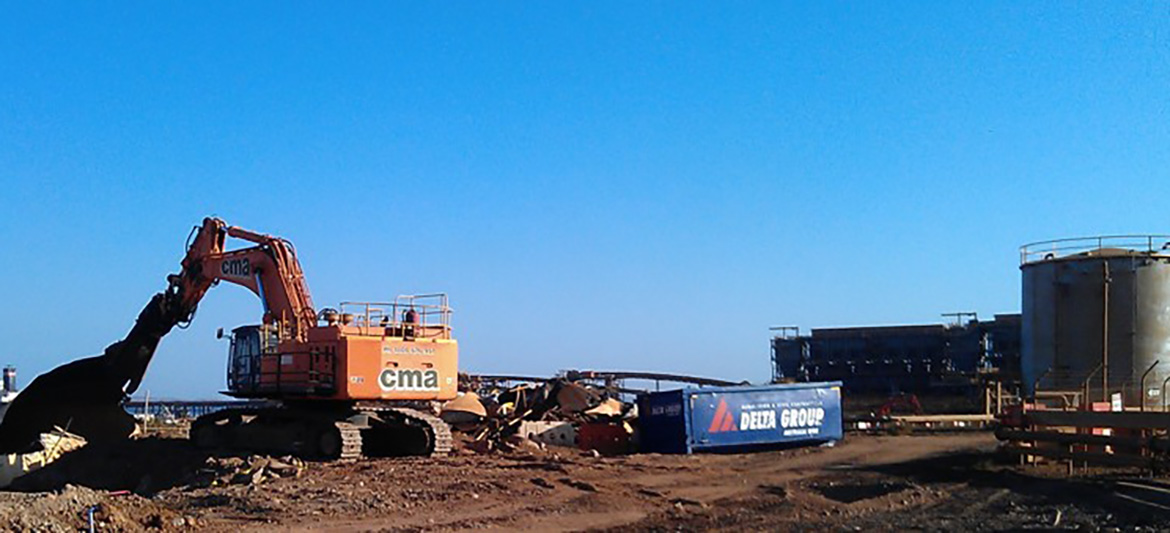 Parker Point Bulk Fuel Terminal
Project Description
Rio Tinto engaged CMA Contracting (a Delta Group company) to design and deliver major industrial demolition and environmental management services at its Cape Lambert and Parker Point facilities near Karratha, Western Australia.

Demolition

Recycling

Asbestos

Environmental
Project
Industrial Demolition & Remediation
Client
Rio Tinto
Sector
Industrial, Chemical & Petroleum
Location
Suburban Perth
Our scope of works included:
Demolition of existing steel bulk fuel storage tanks, water tanks, workshop building, walkways, pipework and minor plant structures down to foundation levels.
Emissions, noise and vibration controls.
Protection of adjacent structures, including hoardings/barricades.
Remediation and rehabilitation of contaminated soil.
Transport logistics, including traffic management and supervision.
Recycling of construction waste materials.
Removal of asbestos and hazardous waste.
We successfully deconstructed the tank farms and associated structures using specialised plant and equipment, including excavators and precision shear attachments to peel/fold each tank before processing the scrap steel onsite.
The foundations were broken down using excavators with hammer attachments and buckets, before loading waste onto articulated trucks for offsite disposal.
Once our demolition works were complete, we undertook remediation and rehabilitation of 22,000 cubic metres of contaminated soil, including:
Analytical sampling and testing – indicating large volumes of hydrocarbon impacted soil.
Soil classification and excavation, including transport to licensed landfill facilities.
Removal of soil underneath demolished tanks – from 0.3m to 1.0m – ensuring stable cut faces as well as the set out and placement of protective measures/barricades to eliminate cross-contamination.